Lead Safety at Home
Lead Poisoning Prevention 
Childhood Lead Poisoning
Lead Testing
HEPA Vacuum Loaner Program
Financial Incentives and Resources
Lead Related Resources
Lead FAQs
Deteriorating lead based paint is the number one source of childhood lead poisoning. Lead–based paint is present in millions of Ohio homes because most homes in Ohio were built prior to 1978, when lead in house paint was banned by the federal government.
L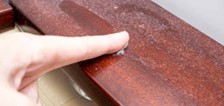 ead based paint is hazardous when found on surfaces that children can chew or that get a lot of wear-and-tear, such as windows, windowsills, doorframes, baseboards, stairs, porches, and the exterior of houses. Lead dust is created from frequent motion and friction as deteriorating lead based painted surfaces bump or rub together, for example opening and closing windows and doors.
Children six years old and younger are at greatest risk for lead poisoning due to their rapidly growing bodies and the tendency to put their hands or other objects, which may be contaminated with lead dust, into their mouth.
Under layers of newer, intact paint, lead based paint is not a problem, BUT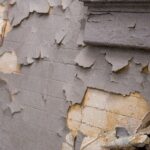 deteriorating lead based paint (peeling, chipping, chalking, damaged, or damp) is a hazard that needs immediate attention, especially when on surfaces that children can access.
Is your family at risk for lead poisoning?
Click here to access Environmental Protection Agency's Lead Poisoning Home Checklist. Answer the six questions to help determine if your family is at risk of lead poisoning.
Simple Steps to Protect Your Family from Lead Hazards
Talk to your child's healthcare provider about scheduling a lead blood test or call the Clark County Combined Health District to schedule a blood lead test. CCCHD testing is done by appointment only. To schedule a CCCHD lead test call us at 937-390-5600 and ask for Randi at extension 266.
Wash children's hands often and well before eating and at bedtime, and frequently wash their bottles, pacifiers, and toys.
Keep an intact coat of latex paint over top of older paint so that children can't have access to the older paint – lead based paint is only dangerous if it is exposed.
Regularly check all painted surfaces of your home for chipping or peeling – looking carefully at painted areas that rub together, like doors, windows, and stairways. Don't disturb peeling or cracked paint and never sand, scrape, or burn any paint if it might be lead paint. Renting? Talk to your landlord about fixing surfaces with peeling or chipping paint.
Prevent your child playing in bare soil. Soil, yards, and playgrounds can contain lead.
A well-rounded diet rich in iron, calcium and vitamin C reduces lead absorption keeping it from entering blood and bones.
Use lead safe cleaning methods at home. Don't spread lead dust! When you see dust and chips, clean safely – wear gloves, place paint chips in a plastic bag that closes tightly, use a spray bottle of water and damp paper towels to help reduce dust when dusting, use the spray bottle of water to dampen small paint chips before sweeping them up (dry dusting and sweeping spreads lead dust particles over a larger area), put used paper towels in the same trash bag used for paint chips, seal the bag and put it out with the regular trash. Wash hands after cleaning.

Always use a vacuum with a High Efficiency Particulate Air (HEPA) filter. A HEPA filter can remove very fine particles from air at 99.97% efficiency. Regular household vacuums release small particles of lead into the air, which spreads lead dust around rather than removing it. Don't have a HEPA vacuum? The Clark County Combined Health District (CCCHD) has a free HEPA Vacuum Loaner Program for county residents. To reserve a CCCHD HEPA vacuum, call us Monday through Friday between 8 a.m. and 5 p.m. at 937-390-5600.
Other dust control methods for friction surfaces include carpeting stairways, replacing windows, or installing window wells or window track liners. Click here for additional information on ways to control lead dust while cleaning.
If you work with lead, leave your shoes outside, immediately shower, and wash your work clothing separately from the regular laundry. Lead exposure occurs in most industry sectors including construction, manufacturing, wholesale trade, transportation, remediation and even recreation.

Hire anOhio Department of Health (ODH) lead safe service providers contractor to do home renovating, repairs, and painting. Click here to access ODH's searchable database of licensed lead safe service providers for the name and contact information of all lead safe service providers in Clark County and the entire state of Ohio.