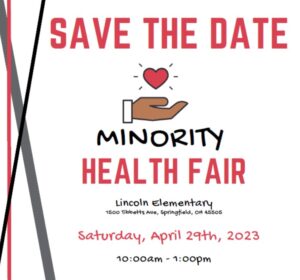 Data in Clark County, as well as nationwide, show that racial and ethnic minority groups experience higher rates of illness and death across a wide range of health conditions, including diabetes, hypertension, obesity, asthma, and heart disease when compared to non-minority groups.
One reason for these disproportionate outcomes is a lack of access to healthcare and preventative treatments.
As part of its ongoing mission to close these gaps and improve health outcomes for minority populations in Springfield and Clark County, the Clark County Combined Health District will again offer free health screenings, doctor consultations and giveaways during the sixth annual Minority Health Fair from 10 a.m. to 1 p.m., Saturday, April 29, at Lincoln Elementary School, 1500 Tibbetts Ave., Springfield.
The Minority Health Fair is conducted each April as part of National Minority Health Month — a time to raise awareness about health disparities that continue to affect racial and ethnic minority populations.
The goal of the event is to connect with the minority populations in Clark County and promote relationship building between minority patients and providers.
Participants will have the opportunity to talk face-to-face with a local doctor, receive a free health screening, as well as giveaways including blood pressure cuffs and weight scales. The Second Harvest mobile food pantry will be on-site beginning at 11:30 p.m.
Transportation options are available. Shuttle service is available from Grayhill Apartments; as well as Perrin Woods Elementary School; and Restored Life Ministries.
Health equity exists when all people can attain their full health potential and no one is disadvantaged from achieving this potential based on the color of their skin, ancestry, level of education, gender identity, sexual orientation, age, religion, the job they have, the neighborhood in which they live, socioeconomic status, or whether they have a disability.
The work of equity, diversity and inclusion is the work of Public Health. We are committed to a future that is free of health inequities that promotes the highest level of wellness for the communities we serve. Our public health workforce embodies humility, respect, leadership, and service on behalf of, and with, the diverse communities we are privileged to serve.