SPRINGFIELD — As part of its mission to improve health outcomes for the entire Clark County population, the Clark County Combined Health District continues to connect with one of the most rapidly growing, but still underserved minority populations in the area.
CCCHD representatives were among the participants recently during the first Haitian Flag Day celebrated at the CMS Caribbean Market, 2113 Park Road, Springfield.
Nearly 100 people attended the Haitian Flag Day festivities commemorating the adoption of the Haitian National Flag, which officially took place May 18, 1803. In addition to recognizing the creation of the flag of Haiti, the festival also celebrates the revolution in Haiti that secured the nation's independence from France.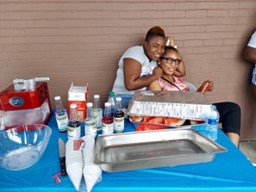 Haitian people, both in Haiti as well as in the United States, celebrate with different events promoting Haitian culture and heritage. Attendees at the local May 21 commemoration also had the opportunity to expand their social safety net and connect with services to improve their health, as well as the health of those in their immediate circle.
Thousands of Haitian immigrants have moved into Clark County in recent months and public health, along with many other community resources have worked to accommodate their needs.
Esther Raphael attended the festival along with a few of her friends. Esther was instrumental in translating for CCCHD representatives, telling Haitian Creole speakers about CCCHD's Sexual Health and Wellness services, and about the significant dangers of lead poisoning in our community. She also highlighted the importance of lead blood tests for young children and pregnant women.
That is one example of the outreach and network building that is happening within this growing community, as social-service partners work to help improve the health and living situations of Haitian individuals living in Clark County.
Guerna "Gina" Vincent owns CMS Caribbean Market and hosted the event. Gina grew up in Florida and told CCCHD representatives that she discovered Ohio about a year ago. She bought a home in Clark County to support the Haitian community.
Also participating was Maria Goeser, who is working with Springfield's new Navigator pilot program to assist socially and economically disadvantaged business owners within the Black, Haitian, and Latino communities, as well as aging and developmentally disabled entrepreneurs
The event was also supported by local Haitian businessmen Merzius Luckens and Dady Fanfan, owners of MTF Management LLC, a residential and commercial real estate development company designed solely to work on sustainable projects, such as remolding, renovating, and rehabilitating old properties.
Copies of the Community Health Foundation's annual edition of the Health Resource Guide for Clark and Champaign counties were distributed during event, connecting publicly-available services to individuals who need them.
CCCHD regularly distributes information in Haitian Creole, as well as Spanish and English, as a growing number of clients are of Haitian descent. Information was provided to around 60 people that stopped by during the festival.