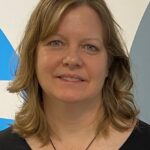 Christina Conover, Director of Nursing for the Clark County Combined Health District (CCCHD), was recognized Tuesday with a 2022 "Extraordinary Woman of the Year" distinction from the Woman's Partnership Funds, an affiliate of the Springfield Foundation.
With 20 years of service in public health, Christina has worked in several capacities at CCCHD including as frontline staff supporting public health clinics; emergency preparedness; and public health accreditation and management.
Christina was one of three exceptional community leaders recognized Tuesday as Extraordinary Women of Clark County for this year during a ceremony that also included recognition of 2020 honorees previously delayed because of COVID-19.
The event honors women that are committed to improving Clark County, are helping to provide opportunities for other women, and are demonstrating what it means to be a community leader.
Anyone that works with Christina, whether at CCCHD; as part of one of her many community partnerships; or as a client receiving care at a vaccination clinic, can attest to her collaborative work ethic, supportive spirit, and unwavering dedication to the betterment of public health.
The mission of public health, including its emphasis on community engagement and responsiveness, as well as elimination of health inequities, align with her personal worldview and make it easy to love the work, Christina said.
"The COVID-19 response has certainly taken its toll on public health workers, as it has for all the of our world. But through the experience, we have been working to capture fragments of growth, both individually and corporately, and apply those improved skillsets to the challenges we will no doubt face going forward," Christina said.
For more information on Women's Partnership Fund, click here.