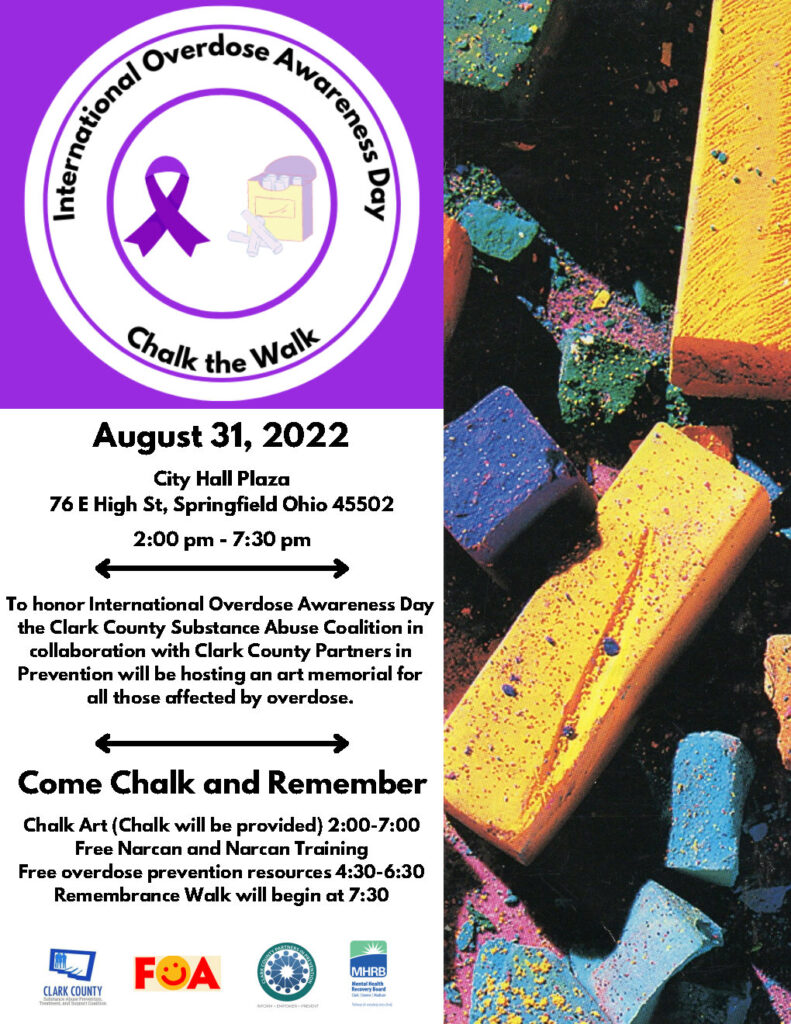 CLARK COUNTY – Dozens of lives each year are lost to overdose deaths just in the Clark County and Springfield area, and the Clark County Combined Health District (CCCHD) joins the voices this week of those remembering without stigma our family, friends, neighbors, and acquaintances who have died from an accidental drug overdose and acknowledging the grief of the family and friends left behind.
International Overdose Awareness Day is Wednesday, Aug. 31, and will be commemorated locally with a "Chalk the Walk" event from 2 to 7:30 p.m. on the Springfield City Hall plaza, 76 E. High St.
The event culminates with remembrance walk that begins at 7:30 p.m. Chalk will be provided to create sidewalk art throughout the event, and an art memorial will be presented for all those affected by an overdose. Free Narcan and Narcan training will be provided, as well as free overdose prevention resources.
Overdose deaths in Clark County increased in 2021, following a three-year decrease. A total of 79 overdose deaths were recorded countywide last year, the most since 2017 (105.) Eighteen overdoses have been recorded this year through May. Illicit Fentanyl remains a leading contributor of overdoses. It's involved in 68.5% of overdose deaths in Clark County.
Overdose awareness day represents an opportunity to eliminate stigma surrounding addiction and accidental overdose deaths.
"Overdose awareness day is an opportunity to educate the community and public about a well-known, but often misunderstood death, and gives us a time to remember lives that are lost to overdose deaths and to reduce stigma surrounding overdose deaths and how we talk about them," said Gracie Hemphill, CCCHD Health Planning supervisor.
"Sometimes it seems like overdose deaths are put into figures or they are just statistics; but there are people, there are families, that are affected by this every day. This event is a way to honor those who lost their lives, recognize the hurt the family has gone through, and then really motivate the community to take meaningful action steps to address the issue."
Local recognition of International Overdose Awareness Day is a collaboration of CCCHD; Family of Addicts (FOA) Bridge of Support; the Mental Health and Recovery Board; Clark County Substance Abuse Coalition; and Clark County Partners in Prevention.