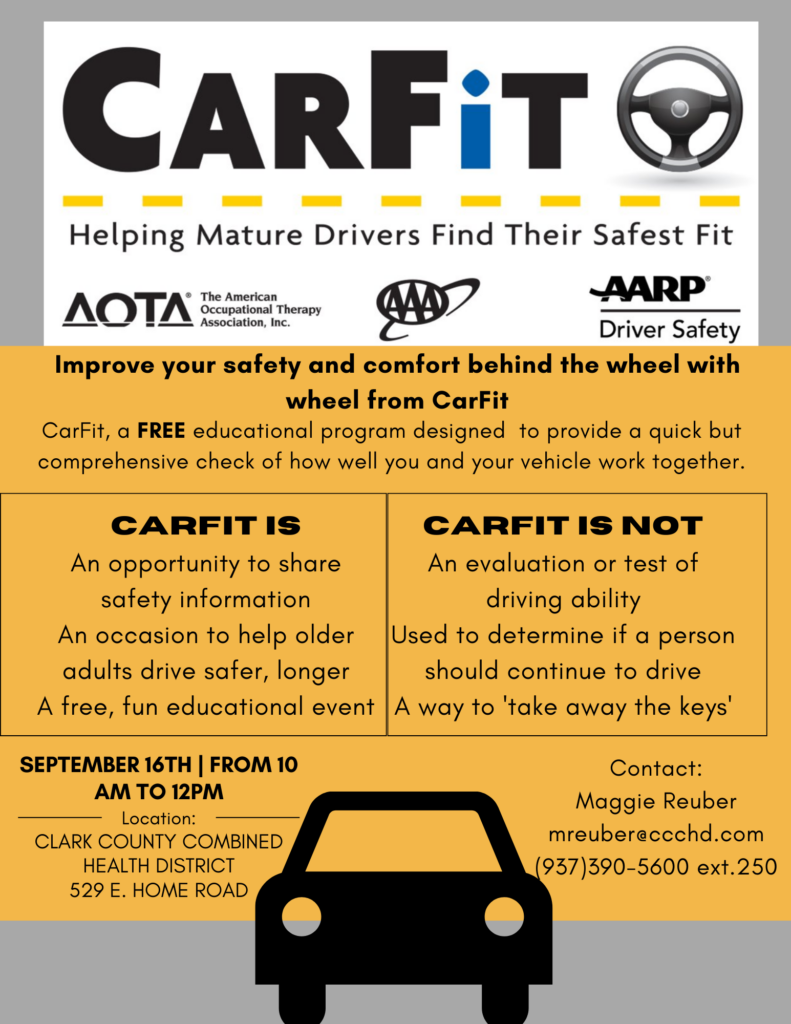 As the senior population continues to grow, ensuring the safety and comfort of older drivers becomes an increasingly important concern.
To help address this issue, the Clark County Combined Health District (CCCHD) hosts an innovative event known as CarFit on Saturday, Sept. 16, from 10 a.m. to noon, at our 529 E. Home Road office. The event is aimed at providing senior drivers with essential information and adjustments to make their vehicles safer and more comfortable to drive.
By 2030, an estimated 58.9 million people in the United States will be aged 65 and older.This demographic is projected to comprise one in four licensed drivers at that time.
Recognizing the critical role of personal mobility in healthy aging, CarFit aims to address the challenges that aging bodies may face while operating vehicles that do not fit their needs properly.
CarFit is a collaborative initiative developed by AAA, AARP, and the American Occupational Therapy Association (AOTA) partnership. Trained professionals from these organizations will be present at the event to guide older drivers through a 12-point checklist for their vehicles. This checklist is designed to identify minor adjustments that can enhance both comfort and safety while driving. Additionally, an occupational therapist will be available to provide seniors with valuable information on maintaining and improving their driving health.
Statistics have highlighted the increased vulnerability of older drivers in road accidents due to the fragility of their bodies. CarFit was conceived as a tool to help keep seniors safer behind the wheel by addressing issues related to ill-fitting vehicles.
CarFit recognizes the need for personalized adjustment of vehicle safety features as a means to promote injury prevention and safety for aging drivers.
Each fitting takes about 20 minutes. For more information or to schedule an appointment, contact Maggie Reuber, (937) 390-5600 ext. 250.
The importance of CarFit's safety messages is not limited to older drivers alone. As the event has expanded nationally, it has become evident that drivers of all ages can benefit from finding their safest and most comfortable fit within their vehicles. By combining the expertise of transportation and healthcare leaders, along with the mission-driven associations of AAA, AARP, and AOTA, CarFit delivers a powerful public health message aimed at enhancing driving safety for individuals of all ages.